Bahawalpur District Correspondents Basic Skills Development Programme 21st December to 23rd December 2009
Refreshar Course 7th to 8th January 2010
NewsWriting CashAward Ceremony 24th Jnuary 2010
Bahawalpur(Rural Pakistan)Rural Media Network Pakistan(RMNP) with the assistance of UNESCO organised three days long District Correspondents Skills Development workshop which was attended by seventeen rural journalists Shabbir Ahmed Qureshi,Rafique Safdar,Syed Sarfraz Hussin Zaidi,Hameedullah Aziz,Mohd Sajjad Ghallu,Rana Mohd Saleem,Yousaf Ghani Qureshi,Mehmood Saleem(AhmedpurEast Press Club),Shahid Bashir Chaudhry,Mohd Faheem(Chanigoth Press Club)Mohd Akmal Sheikh,Dr ZiaulHaq Shehzad,Abdul Ghani Langha,Syed Azhar Ali Rizvi(Uchsharif Press Club),Rao Mohd Farooq,Mazhar Rasheed,Mubashar Hassan Syed(Mubarakpur Press Club)of Bahawalpur District.Two senior journalists from Karachi Mr Asif Noorani (Author and Consultant Dawn Media Group)and Mr Ziaulislam Zuberi (Director Communication Siemen Corporation and Clounmist)conducted twelve sessions on What is news,source of news,types of news writing,the structure of newsitem,body of a newsitem,press release handouts,the art of interviewing,feature writing,ethics of journailsm,the law and the journalist,maintenance of refrence record.A special press freedom monitoring session was also conducted inwhich participants learnt the techniques of monitoring press freedom violations and designing of action alerts.They were also briefed about the constitution of press freedom monitoring committees.Director Information Government of Punjab Mr Nazir Khalid,District Programme Manager NCHD Lodhran Syed NajamulHassan,President RMNP Ehsan Ahmed Sehar and Professor Shehzad Ahmed Khan also delivered lectures in three days long workshop.Every part of the programme was followed by practical excercises and discussions.
Training Manual in Urdu Language,Rural Media Network Pakistan with the assistance of UNESCO published training manual on basic skills for rural journalists in country Urdu language which copies were delivered during the training workshop,Director Information Government of Punjab termed it very useful for district correspondents.He declared that training manual is the exact requirement of rural journalists,he proposed to deliver its copies to all press clubs and unions of journalists in rural Pakistan .
Inaugural Ceremony.RMNP-UNESCO Bahawalpur District Correspondents Basic Skills Development Workshop was inaugurated by PPP MNA Arif Aziz Sheikh in Jinnah Hall AhmedpurEast on 20th December.Addressining impressive ceremony,MNA lauded thr role of the Rural Media Network Pakistan(RMNP) and UNESCO for the capacity building of district correspondents and expressed his hope that new trainees would highlight the development issues confronted by the rural populace.Ex-MPA Sahibzada MuzzamilurRasheed Abbasi,Former Chairman Muncipal Committee AhmedpurEast Mian Mohd Ilyas Ayaz,President Markazi Anjuman-e-Tajran AhmedpurEast Mian Mohd Ilyas Ayaz,City Nazim Makhdoom Syed Hussnein Askari,District General Secretary PML(QA)Bahawalpur Syed Salahuddin Ahmed Jeelani,PPP leaders Alhaj Rasheed Hussein Hashmi,Moin Asad,President Sarafa Association Mehr abdul Rehman Anjum,President Press Club Uchsharif Mohd Akmal Sheikh,Presient PressClub Mubarakpur Mazhar Rasheed,Secretary Information Rana Mohd Saleem and President RMNP Ehsan Ahmed Sehar also addressed the ceremony.Karachi based trainers Asif Noorani and Ziaulislam Zuberi in their speeches highlighted the role of print and electronic media and said that there is great need to raise the status and standing of rural journalists who are generally treated very poorly.They told the audience that UNESCO backed training will improve the quality of news coverage from this impoverished region of Pakistan.
Certificates Giving Ceremony.Certificates giving ceremony was held on 23rd Deceber 2009,inwhich Political Assistant to Chief Minister Punjab Engineer Mohd BalighurRehman MNA was the chief guest.Addressing the cermony,MNA said the building capacties of district correspondents and promoting mutual understanding between elected represetatives and the media would improve the quality of free flow of information to the public,develop greater awareness of rural issues by the rural populace and encourage better governance and democracy.Political Assistant to Chief Minister Punjab appreciated both Rural Media Network Pakistan and UNESCO for making the distict correspondents concsious of their responsibilty to reflect the project the hopes,aspirations,and needs of rural people,men and women, for a better life through broader awareness.Karachi based trainers Asif Noorani and ZiaulIslam Zuberi stated that they had imparted training to seventeen district correspondents in news writing,news gathering,article writing,ethics of journalism,ethics of journalism,maintenance f reference records and other related subjects including how to defend press freedom?Every part of the programme was followed by practical execercises they maintained.Senior Journalist and trainer ZiaulIslam Zuberi announced to give Rs ten thousand cash award to a group of trainees out of total four, who would write a best story containing one thousand words on the subject given to them.Later on MNA Mohd BalighurRehman gave the ceriticates to all 17 participants.
Two Days Long Refreshar Course.Two days long refreshar course was organised on 7th and 8th January 2010 in Jinnah hall AhmedpurEast as the followup of three days long training workshop.Professor Shehzad Ahmed Khan,District Programme Manager NCHD Lodhran Syed NajamulHassan Bukhari,former editor Daily Maghrbi Pakistan Bahawalpur Bashir Hussein Ansari and President RMNP Ehsan Ahmed Sehar run this course.Participants wrote stories related to rural development,human rights,administrative mal-practices,women issues,crimes and politics.They also wrote fresh features and interviews.A session was allocated for monitoring press freedom violations.Participants divided in four groups designed action alerts for its circulation to national and international press freedom organisations.Representatives of four press rural press clubs handed over their four written stories to President RMNP Ehsan Ahmed Sehar for Rs ten thosand cash award who mailed it to trainer Mr Ziaulislam Zuberi for final selection.
Cash Award Ceremony.Karachi based trainers Asif Noorani and Ziaulislam Zuberi declared Chanigoth Press Club group as winner of the best news writing contest while Uchsharif group stood second and AhmedpurEast obtained third position.Cashaward ceremong was held n 24th January in Jinnah hall AhmedpurEast inwhich former Chairman Muncipal Committee AhmedpurEast Mian Mohd Ilyas Ayaz gave Rs eight thousnd net cash award to two members winner Chanigoth group while Uchsharig group four members received Rs two thousand cash award.
Media Coverage.Major Urdu and English national newspapers Nation,The Frontier Post,The Daily Times,Daliy Jang,Daily Nawa-e-Waqt,Daily Pakistan,Daily Khabrain,Daily Ausaf,Daliy Express gave good coverage to the RMNP Unesco training course while reginal newspapers Daily Tasalsal and Daily Nawa-I-Ahmedpursharqia also made the headlines of this training event.Two independent TV Channels Waqt News and Dunya News also telecasted the concluding ceremony news.Similarly Krachi based trainers got publihed RMNP UNESCO training workshops reports in Karachi English dailies Business Recorder,City News and Urdu dailes Qaumi Akhbar,Riasat and Beopar.
Recommendations. The three days long course was designed to train a cadre of 15 rural journalists but due to the pressing demand two more journalists were included.They were selected for their capacity to mentor others with hom they work,reinforced by RMNPs' committment to rural readership.A lively rural media is the best of bulwark against corruption and eventually help to forge that vital relationship between an informed citizenary and more responsive elected officials ,which is essential for the sustainable development and the achievement of the UNITED NATIONS Millennium Development Goals. Pakistan Parliament members of ruling PPP and main opposition party PML(N) who attended this workshop in inaugural and concluding ceremonies demanded to organise more training programmes on basic skills for rural journalists due to the mushroom growth of rural publications.Legislators urged RMNP and UNESCO to equip rural journalists of feudal dominated South Punjab in its first phase as rural journalists representing 65 percent of the country population but they are untrained while no media house in Pakistan has launched any training programe for them.Rural Media Network Pakistan agreed with them that in two years at least 24 workshops be organised fo rural journalists.Workshop strength be increased to 25 so the maximum journalists of small towns and rural areas be benifitted.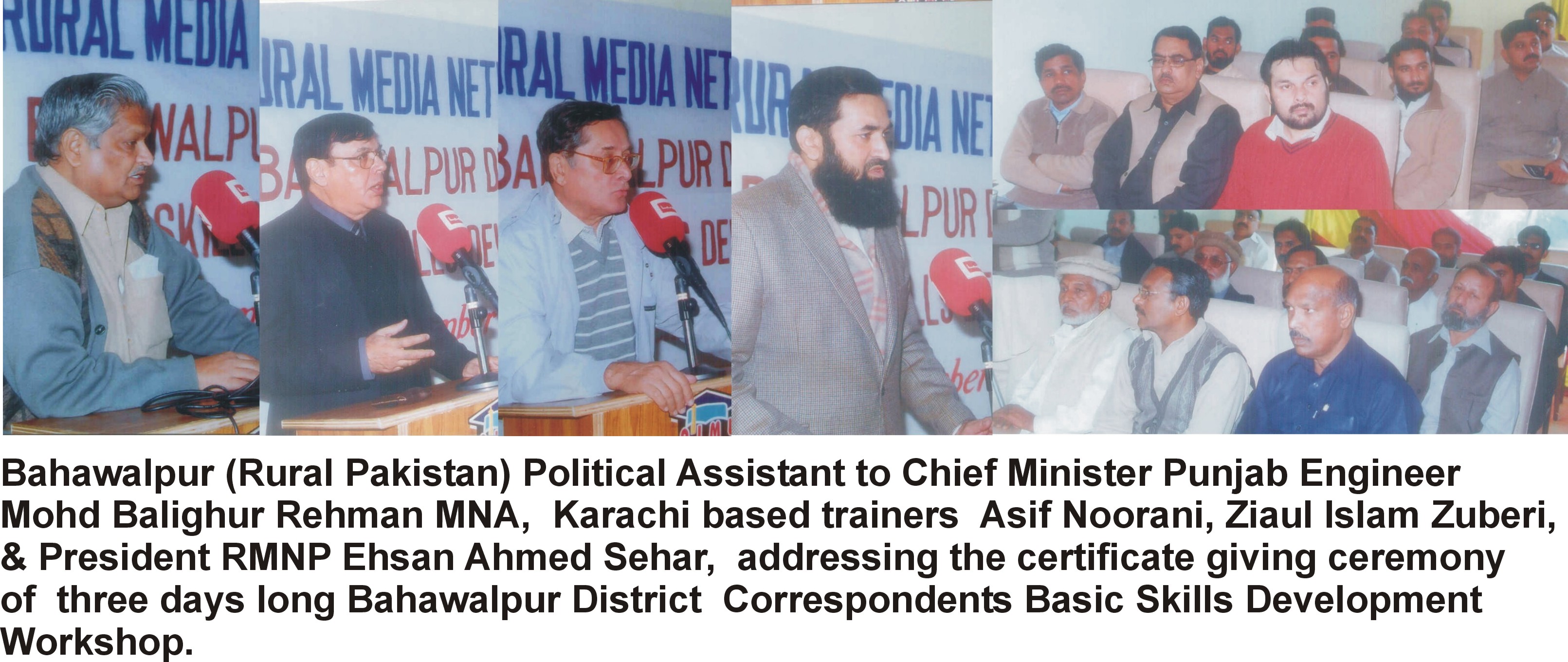 Online Journalism Training Workshop for Women
16 to 18 June 2009
Government Girls High School Ahmedpur East

Ahmedpur East (Rural Pakistan).June 19: At least 240 persons committed suicide while 1,615 incidents of violence against women were reported in South Punjab. This was disclosed in the concluding session of three days long Online Journalism Training Workshop for Women organised by Rural Media Network Pakistan(RMNP) with the collaboration of UNESCO in the premises of government Girls Model High School AhmedpurEast. Certificate giving ceremony was chaired by Principal Ms Syeda Najamun Nisa Bukhari while Executive District Officer Education (EDO) Bahawalpur Mohd Saleem Khan was the chief guest on this occasion. Addressing the ceremony EDO Education stated that an unfortunate aspect of Pakistani journalism is the lack of women journalists in rural areas and small towns while there were many distinguished women journalists in the cities, there are none in rural areas and small towns..He said that rural societies in Pakistan were highly segregated, lack of women journalists means tht media does not properly cover a large segment of rural life. He eulogized the services of Rural Media Network Pakistan(RMNP) for organising training events for rural women to remedy the glaring absence of women among thousands of rural journalists and also lauded the role of UNESCO for focussing rural areas in Pakistan in assisting media training. EDO Education Mohd Saleem Khan informed the participants that Internet use was increasing at an astounding rate. Some eight million Pakistanis in more than a thousand cities, towns and rural centres were connected to the internet. Similarly the print media of underdeveloped countries was not only publishing its online editions but also using the internet in the gathering and distribution of news .He hoped that media training with the assistance of UNESCO would enhance the skills and knowledge of women contributors in reporting basic human rights issues as well as related good governance practices by using internet. Principal Syeda NajamunNisa Bukhari in her presidential address hoped that UNESCO backed training would raise the awareness of female journalists on issues concerning rural communities and improve their skills to monitor human rights violations in far flung and impoverished areas. She stated that there were many women with master degrees in journalism but they were not given oportunities. Syeda Najamun Nisa Bukhari demanded that women should be encouraged to work either through emails from their homes. President RMNP Ehsan Ahmed Sehat told the
participants that RMNP-UNESCO training would build the capacity of women to speak out against negative media stereotyping of women and examine collectively current media handling of violence against women and to formulate alternatives. It would also raise a critical awareness amongst women at grassroots level. He informed that the total population of Bahawalpur division is 9229927 out of which 4309590 are male while 4920337 are female. Women percentage in Bahawalpur division is 53.30 as per latest survey he added. Giving the details President RMNP told that (3315610)67.39 percent women were residing in villages while (1604727)32.61 percent of women population was settled in urban areas of Bahawalpur division. He further told that approximately three lac women a total six percent of their population was serving in different spheres of life while their literacy rate is only 24.9 percent. He announced that Rural Media Network Pakistan would launch a training programme for 100 rural journalists in Balochistan with the assistance of Commonwealth Journalists Association in near future. Earlier ...
Master trainer Ms Naila Batool,
Manager Russel Company Syed Qamaul Hassan,
District Manager National Commission for Human
Development Lodhran Syed Najamul Hassan,
Legal consultant Imtiazul Haq and
Moscow return IT expert Aun Mohd
... conducted training sessions and
imparted training to use the internet and in designing the action alerts for sending to national, local media and international organisations. Later on Executive District Officer Education Bahawalpur Mohd Saleem Khan gave certificates to women participants ...
Ms Ruqia Noor
Mrs Najma Shafi
Ms Shahida Noor
Mrs Asma Anjum
Ms Salma Zia
Mrs Robina Akram
Ms Tooba Nadeem
Ms Asia Maqbool
Ms Irum Fatima and
Ms Nadia Noreen.
He also handed over books gift to Principal Syeda Najma Bukhari for School computer lab on the behalf of the Rural Media Network Pakistan.

1-Ahmedpur East (Rural Pakistan) Master trainer Ms Naila Batool and President RMNP Ehsan Ahmed Sehar lecturing in the concluding session o RMNP-UNESCO Online Journalism Training Workshop held in Govt Girls Model High School.

2-AhmedpurEast (Rural Pakistan) Executive District Officer Education Bahawalpur Mohd Saleem Khan giving certificates to Ms Nadia Ansari, Ms Ruqya Noor, Ms Najma Shafi, Ms Shahida, Ms Asima Anjum, Ms Salma Zia, Ms Tooba Nadeem, Ms Aasia Maqbool, Ms Erum Fatima and Ms Robina Akram, participants of Online Journalism Training Workshop held on 18th June in the premises of Govt Girls High School AhmedpurEast.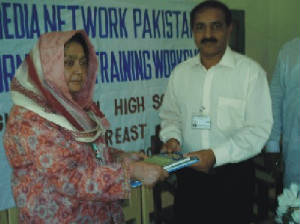 3-Ahmedpur East (Rural Pakistan) Executive District Officer Education Bahawalpur Mohd Saleem Khan giving books gift to Principal Syeda Najmunisa Bukhari on the behalf of The Rural Media Network Pakistan. 4-Ahmedpur East(rural Pakistan)President RMNP Ehsan Ahmed Sehar and EDO Education Bahawalpur Mohd Saleem Khan standing with two male trainers of the Online Journalism Training Traininng Workshop.
4-Ahmedpur East(Rural Pakistan)President RMNP Ehsan Ahmed Sehar and EDO Education Bahawalpur MohdSaleem Khan standing with two male trainers of the Online Journalism Training Traininng Workshop.

FREEDOM OF EXPRESSION TRAINING WORKSHOP
May 16 to 17 May 2009 Canal Rest House Chanigoth

Chanigoth(Rural Pakistan)May17,Rural Media Network Pakistan(RMNP) with the colloboration of Unesco organised two days long Freedom of Expression Training Workshop in Canal Rest House on May 16 to May 17,2009.It was inugurated by Director Public Relations Bahawalpur Division,Government of Punjab Nazir Khalid,while Professor Shehzad Ahmed Khan,Syed NajmusSaqib,Mohd Saleem, Ehsan Ahmed Sehar and Gulzar Ahmed District General Secretary Bar Association were the resource persons.A total seventen journalists representing national,regional newspapers & tv channels hailing from Chanigoth town attended the workshop.Professor Shehzad Ahmed Khan said that journalists had not only lost their jobs but also gone to jails during the course of their struggle.He said that most of their problems had,however been solved with new developments which had made censorship impossible.Professor Shehzad Ahmed Khan added that not only the objectivity required to be maintained in journalism but all schools of thought should be provided a opportunity to express their point of view.He highlighted the struggle of journalists for freedom of expression duing the 62-year history of the country.Resource persons Syed NajmulSaqib,Mohd Saleem,Gulzar Ahmed adovcate undelined the need of Internet training to promote freedom of expression in rural Pakistan.They termed Pakistani journalists the most courageous in the world.They had stood up for freedom of expression regardless what government happened to be in power.They had been flogged and jailed and they had suffered persecution and even loss of livehood,but they had not given up,unlike their Indian counterparts who had caved in after Mrs Gandhi s, assumed emergency powers,suspending the constitution.They told the participants that as many as 59 Pakistani journalists had died in the line of duty.They had been abducted and they have been tortured.Even members of their families had been targetted and killed.President RMNP Ehsan Ahmed Sehar stated that Pakistani journalists faced pressures from the state and threats from non-state actors,such as militants.Pak journalists have faced pressures from feudal lords and from its religious zealouts and yet we have preserved and refused to lapse into silence,he told the audience.He said journalists working as stringers for the foreign media had no insurance,no security and no protection when they went on dangerous missions.And yet they continued doing what they considered as honoured professional duty,he observed.He said that FOE workshops in rural Pakistan is RMNP initiative to train both male journalists and women contributors,so a network of freedom of expression in rural Pakistan be created.Director Public Relations Bahawalpur Division,Government of Punjab Nazir Khalid also gave a lecture and highlighted government point of view.He stated that government believes in the freedom of press.He cited the examples of the actions taken by Chief Minister Punjab Mohd Shahbaz Sharif and Chief Secretry Punjab Javed Mehmood on the various complaints published in different newspapers.Director Public relations hailed the establishment of Press Freedom Monitoring Committes by Rural Media Network Pakistan and assured his full cooperation in reslolving journalists community problems.He asked the rural journalists to inform him about their genuine problems,so it could be taken into the notice of divisional and provincial administration.Chanigoth journalists improved their reporting on FOE issues as the result of this two days long training workshop.The poor provision of water,heating and electricity as well as administrative mal-practices and police high handedness came under discussion.The role of both print and electronic media in highlighting the rural problems was also discussed in detail and participant journalists expressed their apprehensions.This training workshop provided journalists with an overview of the Freedom of Information laws, fundamental principles of human rights including labour and pension rights,gender law,HIV and AIDS related laws and procedural laws.The techniques to design action alerts was also imparted to participants.Seventeen journalists also received the copies of "Freedom of Infornation Rules" and the Urdu translation of the "Basic documents recognising the principle of press freedom" and " Reference documents on professional ethics".In the concluding session,Director Public Relations Nazir Khalid distributed cerificates among seventeen rural journalists,Shahid Bashir Anjum,Mohd Hashim,Abdul Rasheed Langha, Abdul Saboor,Faheem Akhter Malik,Abdul Hafeez Faheem,Mohd Aslm,Mohd Anwar,Rana Nadeem Akhter,Farrukh Zaman Khan,Abdul Rasheed Punuhan,Malik Zafar Iqbal,Tariq Khan Abbasi,Abdul Qadir,Mohd Sajjad Ghallu and Syed Irfan Haider Bukhari.



Chanigoth(Rural Pakistan)Director Public Relations Bahawalpur Division
Nazir Khalid,Professor Shehzad Ahmed Khan and Ehsan Ahmed Sehar
lectuering in Freedom of Expression Trainining Workshop organised by
Rural Media Network Pakistan with the colloboration of Unesco in Canal
Rest House Chanigoth.


2-Director Public Relations Bahawalpur Division Nazir Khalid giving
certificates to the participants of RMNP-UNESCO FOE Training Workshop
in Canal Rest House Chanigoth
Press Freedom Monitoring Workshop
Press Club Liaquatpur District Rahimyar Khan May 13,2009

Liaquatpur (Rural Pakistan) May 13, Rural Media Network Pakistan with the collaboration of Electronic Media Correspondents Association Liaquatpur organized One day Press Freedom Monitoring Workshop in the premises of Press Club Liaquat Pur .President RMNP Ehsan Ahmed Sehar, educationist Ziaur Rehman Naeem and senior jounalists Ghaznafar Ahmed Sial, Waheed Rushdi, Habibiur Rehman Marral and Mian Shahid Javed were the resource persons. President RMNP Ehsan Ahmed Sehar told the participants that ' The aim of this workshop is to establish an effective network of journalists to monitor and defend freedom of expression. The workshop examined forms of harassment faced by rural journalists in small towns and villages with a view to determining effective methods through which individual journalist, journalists organizations and press clubs could monitor attacks on press freedom, and support journalists and media organizations that have been victimised. Participants were also informed on how to deal with situation of violation of freedom of press not merely in their area ,but also elsewhere in the country. A session focussed on how to start or join an ongoing provincial or national campaign to draw, government public attention to the issues at hand. President RMNP Ehsan Ahmed Sehar provided a comprehensive understanding of the international and national basis for freedom of expression as well as constraints to exercising this right. He cited the examples for monitoring of freedom of expression while emphasis was placed on the development of practical guidelines for monitoring and investigating violations of freedom of expression. He responded the volley of questions of the participants and presented six books on TV Journalism published by International Center for Journalists USA in Urdu to Electronic Media Correspondents Association Liaquatpur members Ghanzafar Ahmed Sial, (Aaj TV) Taj Ghaus( Royal TV),ZianulAbideen(Duniya)Waheed Rushdi(Din)and Haji Mohd Abdullah (Express). Simialarly he distributed UNESCO CD "Education Makes News' to sixteen journalists, Shafqat Mehmood, Zubair Hassan, Haji Mohd Abdullah Javed, Mian Shahid Javed, Waheed Aslam Ruhdi, ZainulAbid Naheed, HabiburRehman Habib, Jumma Khan Anjum, Syed Hussnein Bukhari, Taj Ghaus, Wafa Saleem Taskeen, Rashad Shaheen Chuhan, Haji Abdul Rauf Kharal, Syed Ziauddin Naeem, Zulfikar Ahmed and Ghaznafar Ahmed Sial. A press freedom monitoring committee headed by senior journalist Ghaznafar Ahmed Sial was also constituted in this workshop.

Liaquatpur. President RMNP Ehsan Ahmed Sehar conducting Press Freedom Monitoring Workshop in Press Club Liaquatpur.

Liaquatpur. Principal Ziauddin of Syed Public School giving ICFJ TV journalism Urdu training manuals to TV Correspondents Ghazanafar Ahmed Sial, Mian Shahid Javed, Taj Ghaus, Haji Abdullah, Waheed Rushdi and ZainulAbideen.

Liaquatpur: President RMNP Ehsan Ahmed Sehar giving UNESCO CDs Education Makes News to Ziauddin Neem, President Press Club Mehar Abdul Waheed Sial, General Secretary Habibur Rehman Habib, Shafqat Mehmood and other journalists in the books distribution ceremony held in Press Club Laiquatpur, District Rahimyar Khan
41 Journalists attend RMNP training workshop

RMNP Workshop concluded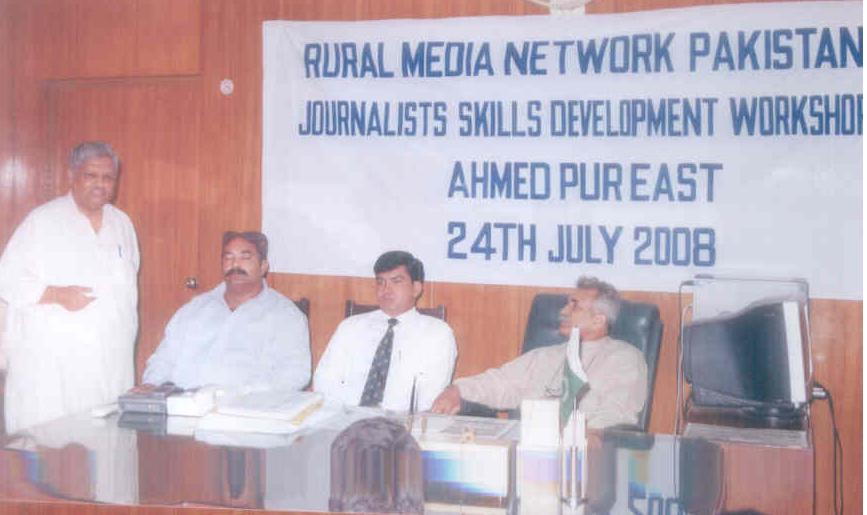 Director Public Relations Bahawalpur Nazir Khalid, DDOR Fayyaz Hussein Abbasi and Tehsil Nazim Makhdoom Syed Sabtain Bukhari listen to President RMNP Ehsan Ahmed Sehar (standing)

Ahmedpur East 23 July 2008: Forty one local correspondents today attended a Journalist's Skills Development Workshop organised by the Rural Media Network Pakistan (RMNP) in the Tehsil Municipal Administration Hall. Director Public Relations Bahawalpur Division Nazir Khalid, President RMNP Ehsan Ahmed Sehar and the former President of the Press Club Bahawalpur and former Resident Editor Daily Maghrabi Pakistan, Bashir Hussein Ansari, delivered lectures in two sessions which lasted for four hours each. Director Public Relations Bahawalpur Division Nazir Khalid imparted training on the topics What is news, its definitions, news values, timeliness, place of origin, the unusual, conflicts, magnitude, known names, human interest, sources of news. He also spoke on types of news reporting including political, environmental, courts and crime, accident, business and press conference reporting. Nazir Khalid spoke of the difference between a news report and ordinary writing. He outlined the structure of a news item particularly the body of a news item, besides ethics of journalism and press related laws.

Ehsan Ahmed Sehar announced that RMNP was organising more training workshops for rural journalists in other remote areas of South Punjab. he said it was clear that the Journalist's Skills Development Programme was going to be popular as it had already evoked an enthusiastic response from rural journalists in different towns. He said the program was in response to a long standing vacuum in the availability of professional training facilities for rural journalists. A training manual for rural journalists in the Urdu language was distributed among all 41 participant.

A certificate giving ceremony was held that afternoon in the TMA hall at which Deputy District Officer Revenue Subdivision Ahmedpur East, Fayyaz Hussein Abbasi, Director Public Relations Bahawalpur Division, Nazir Khalid, and Tehsil Nazim Makhdoom Syed Sabtain Haider Bukhari gave certificates to the 41 participants -
Chaudhry Sardar Ahmed
Mohd Yaqoob Khan Joya
Dr Abdul Hameed Saqib
Mohd Akram Zafari
Jamil Shehzad Malik
Ahmed Khan Babar
Hameedullah Khan Aziz
Mohd Ashfaq Sandha
Hafiz Mohd Ejaz Baloch
Mohd Gulsher Bashir
Malik Mohd Arif
Bashir Hussein Ansari
Ejaz Hussein Mughal
Sheikh KhalilurRehman


Syed Sarfaz Hussein Zaidi
Mohd Akmal Sheikh
Nasar Khan Niazi
Syed Mohd Zafar Iqbal Bukhari
Mohd Rafique Safdar
RaziurRehman
Dr Qadeer Ahmed
Chaudhry Mohd Akram
Sheikh AzizurRehman
Saeed Ahmed Chaudhry
Zubair Khan
Mohd Asif
Sabar Hussein Langha
Dr Khushi Mohd


Mohammad Saleem Rajput
Mohd Makki Haider Jalwana
Mohd Ejaz Baloch
Mohd Ashfaq Chughatta
Dr Ahmed Faheem Chisti
Shehzad Hassan
Dilshad Nadeem Hashmi
Syed Nasar Mehmood Rizvi
Syed Sabar Hussein Shah
Rana Atif Rehan
Mohd Younas Naseem
Makhdoom Syed Hussnein Askari
Shabbir Ahmed Qureshi (Co-ordinator)
Tehsil Nazim Makhdoom syed Sabtain Haider Bukhari presenting certificates to the participants

Deputy District Officer Revenue Fayyaz Hussein Abbasi presenting certificates to participants

Director Public Relations Bahawalpur Division Nazir Khalid giving certificates
RMNP Training Workshop

Nazir Khalid presenting certificates to journalists who attended RMNP's workshop in Mubarakpur
Mubarakpur July 22: Director Public Relations Bahawalpur Division, Government of Punjab Nazir Khalid says the coverage of development and environmental issues is a vital responsibility of local journalists as sixty percent of the populace of Pakistan is living in
rural areas. These views were expressed while addressing a certificate giving ceremony of the One Day Journalism Training Workshop organised by The Rural Media Network Pakistan(RMNP) in Union Council hall Mubarakpur. It was chaired by the President of the Rural Media Network Pakistan (RMNP) Ehsan Ahmed Sehar while Nazim Union Council Town Mubarakpur Chaudhry Mohd Sharif and Medical Officer Rural Health Complex Mubarakpur Doctor Talha Naeem Cheema were also present. The Director Public Relations Bahawalpur Division stated that despite the airing of dozens of private TV channels, the importance of print media had not been decreased. He underlined the need of educating the rural populace on development and environmental issues so that they could stand up for their rights. Commenting of the role of the rural journalists Nazir Khalid said that district correspondents were the backbone of the newspaper and media industry. The problem of the lack of facilities in rural Pakistan was an obstacle in utilizing the potential of these journalists most of whom were untrained and unaware of media ethics. He lauded the role of RMNP for providing training facilities in rural areas and small towns, saying there was mushroom growth of the number of district correspondents after the launching of regional editions of major newspapers from several cities of the country. He opined that the power shift towards rural areas had made it essential to focus on community journalism, hence big media houses and government should chalk out plans on taking new media trends to the doorsteps of local journalists based in rural areas. Earlier President RMNP Ehsan Ahmed Sehar said that more than 100 male journalists and 60 women writers had benefited so far by attending RMNP workshops and training courses. He announced that RMNP planned to organise computer training courses for rural journalists in the current year and urged rural journalists from Noorpur Nauranga Tehsil Sadar Bahawalpur and Mubarakpur town to form Press Freedom Monitoring Committees so that when press freedom and freedom of expression violations occurred in far flung areas they could be passed to press freedom groups working with RMNP. He disclosed that RMNP was planning to release its E-newsletter Sadiq News in the Urdu language to press clubs and senior journalists functioning in rural zones, besides the holding of press freedom seminars. Later on Director Public Relations Bahawalpur Nazir Khalid, President RMNP Ehsan Ahmed Sehar, Nazim Town Mubarakpur Chaudhry Mohammad Sharif and Medical Officer Rural Health Complex Doctor Talha Naeem Cheema gave certificates to fifteen journalists -

Mohd Faheem Akhter
Shahid Bashir Anjum
Ghulam Murtaza Chaudhry
Mohd Ejaz Baloch
Imam Bakhsh Bhatti
Ijaz Ahmed
Syed Mazhar Hussein Bukhari
Syed Ishrat Abbas
Faraz Haider Khan
Qamar Rasheed Missan
Mohd Azizuddin Mian
MazharulHaq
Mubashar Hussein Syed
Shabbir Ahmed Qureshi
Mazhar Raheed.

These journalists attended two six hour sessions in which Director Public Relations Nazir Khalid and President RMNP Ehsan Ahmed Sehar delivered lectures on news gathering, news writing and news transmission. Director Public Relations also spoke on the art of interviewing, feature writing, ethics of journalism, and the Press & Publication Ordinance.

Ehsan Ahmed Sehar and Nazir Khalid lecturing at the RMNP workshop in Mubarakpur
CJA Workshop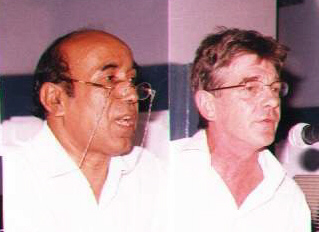 Dr Shamasuddin and Michael Griffin
Renowned British journalist Michael Griffin ran this four day workshops in Ahmedpur East 16-19 June 2003 to impart basic skills to rural journalists. This was the first training workshop run by the CJA in a remote area since the CJA was founded in 1978. The workshop was held at the Ahmedpur Higher Secondary School and was attended by 10 female journalists and 15 male journalists. Due to cultural requirements separates classes were conducted for lady journalists which lasted two of the four days allocated for the workshop. The women were given presentations on writing skills, developing stories, the news pyramid, corruption its causes and effects, how media can help in the fight against corruption, and basic details about Pakistan Freedom of Information Act and how it can help them. A survey was also conducted to determine the women journalists priorities in the fight against corruption and its results showed the participants thought that in the fight against corruption freedom and democracy and the example set by leadership were top priorities. The result was the same for the survey of the male journalists. The male participants of the workshop went through the same course and were also given exercise to determine their level of competence.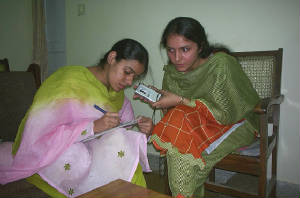 University students learning interview techniques in CJA Course
Stories pertinent to Ahmedpur were discussed in details and investigative techniques imparted by Michael Griffin. A presentation on bonded labour was given by Malik Abdul Aziz, advocate and a labour activist from the area of Liaquatpur who gave a detailed history of bondage and how the media can help the less privileged by reporting on their plight. A local advocate from Ahmedpur also gave a presentation and discussed issues such as libel and slander. Griffin was assisted by Ziaul Islam Zuberi a columnist from Karachi, and a volunteer with Transparency International who gave a presentation on the subjects of corruption and the freedom of information act. The local facilitator for this workshop was Ehsan Ahmed Sehar and it was inaugurated by Nawab of Bahawalpur, Nawab Salahuddin Abbasi.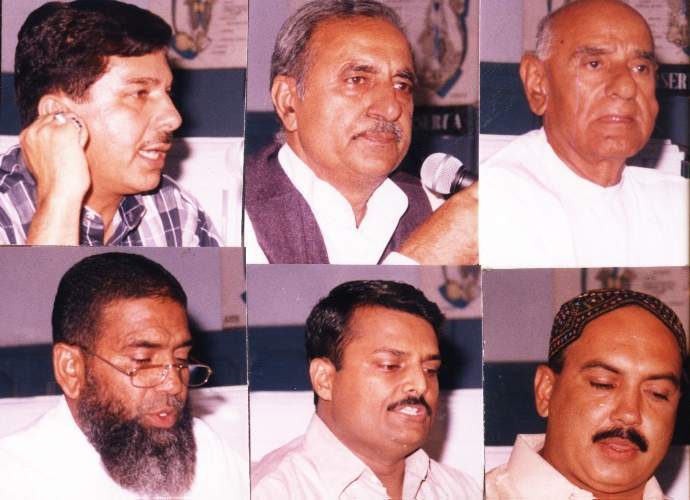 Chaudhry Tahir Jamil Ex-president BCCI, Zia-ul-Islam Zubairi, Ehsan Ahmed Sehar, Malik Rashid Ahmed, EX-MPA Abdullah Khan Dahar, Syed Khairat Bukhari, Ch Tahir Jamil, Mian Ilyas Ayaz, Mian Rafiat-ur-Rehman Rehmani, journalists Shabbir Qureshi, Mazhar Rasheed, Hasnain Askari, and Akram Zafari addressing the inaugural ceremony of the Commonwealth Journalists Association training workshop in Ahmedpur Public School Ahmedpur East



Amir of Bahawalpur Nawab Salahuddin Abbasi presenting Commonwealth Journalists Association Britain certificates to local journalists Ehsan Ahmed Sehar, Shabbir Qureshi, Syed Hussnein Askari, Mazhar Rashid, Akram Zafari, Shahid Bashir, Iftikhar Rehmani, Syed NajamulHassan, Imran Mueed Perwaz, SaifulIslam, and Mudassar Saleem on completing the four days long Investigative Journalism training course organised with the collaboration of Nawa-i-AhmedpurSharqia in a ceremony held at Canal Rest House on 19th June 2003.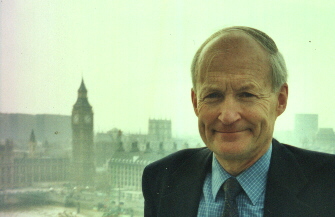 Ian Gillham
Message 8th June 2003 from the Executive Director of the CJA Mr Ian Gillham:
Good journalism is at the heart of a good society. Governments and councils cannot act wisely without fair,clear and accurate information. The people cannot assess the actions of governments and councils,and choose their rulers wisely, without fair clear and accurate information. The journalist is the bearer of the information. Fairness, clarity and accuracy are the hallmarks of a good professional.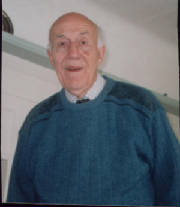 David Spark
Message 7th June 2003 from Mr David Spark the Editor of the CJA newsletter:
The course at AhmedpurEast ia an unusual venture for the Commonwealth Journalists Association. It is not being held in a major city and it is not being held in English. A donor to provide money was found, imaginative enough to see the point of offering training to journalists working in unfashionable but nevertheless important places. S.M.Fazal Pakistan CJA chapter President from Karachi told the CJA conference in Bangladesh in February that courageous but poorly paid reporters in the Pakistani countryside have been exposing social evils and human rights violations at great personal risk from militiants, bad landlords, drug smugglers and other criminals. Newspapers have been exposing honour killings of women, trafficking in women and children, bonded labour in agriculture and forced child marriages. Thousands of bonded labourers working in brick klins in the Punjab as virtual slaves have been set free through courageous work by human rights activists and bold reporting in the press. So as Mr Fazal points out,the work of journalists in such places as AhmedpurEast can make a big contribution to Pakistani society.
One-Day Workshop 29 March 2006
A one day Journalism Training Workshop on Freedom of Expression Issues and Media and Local Democratic Governance was organised at Ahmedpur East on 29 March 2006 by the Rural Media Network Pakistan with support from the rural daily Nawa-i-Ahmedpur Sharqia. In a brief report convener Ehsan Ahmed Sehar told the participants that print and electronic media in Pakistan were free to some extent but more freedom was needed to do objective journalism. He reported concerns voiced over the performance of designated officers, appointed under the Freedom of Information law 2004, saying that they failed to effectively implement the ordinance aimed at eliminating the culture of secrecy and promoting transparency and public accountability in governance. These observation were made in a seminar in Islamabad where speakers said the designated officers appointed by various ministries to deal with information requests were not fully aware of their roles and responsibilities under FOIO2004. The officers had not been provided with clear guidelines by their respective ministers, they said, and the designated officers must take effective steps to create awareness and provide the information required by citizens in a timely and cost effective manner.
The keynote speaker and member of the Punjab Bar Council, Rana Sardar Ahmed, highlighted Freedom Of Information Ordinance 2004 and said that the press was not free in Pakistan. He urged journalists to use Qanoon-e-Shahdat to obtain public documents and asked them to play a leading role in the campaign against human rights abuses by exposing cases of extra judicial killings, rape and torture. He said Government was still reluctant to amend Freedom of Information Law 2004 and the law of defamation, despite its previous assurances. Rana Sardar said that as to access for information in Pakistan, the government takes one step forward and two backwards. Sardar Mohammad Aslam Khambra, Tehsil Municipal Officer Ahmedpur East, said that electoral politics had increased the importance of rural centres, following the creation of local governments in 2001 with provisions relating to transparency and access to information. To date media had not managed to perform its role of keeping the public informed of local government's performance, and required assistance in promoting regular harmonious professional interchanges with local governments and parliamentarians in local elections. He said that building the capacity of rural journalists to promote mutual understanding between local institutions and media can improve the quality of the flow of information to the public, develop greater awareness of rural issues by the citizens, and encourage better governance and democracy. Leading intellectual, Hassan Askari Sheikh, condemned the publication of blasphemous caricatures by Danish and European newspapers and termed it an abuse of freedom of the press and expression, which was a cardinal principle governing civilization. He said that freedom of expression had natural boundaries and limits and should be exercised with a sense of responsibility. It could not be used as a cover to engage in a slanderous tirade against personalities that command the highest reverence of religious communities across the world. He called upon professional organizations of publishers, editors, and journalists across the world to evolve a Code of Conduct for the press and other media, emphasizing responsibility and respect for culture and religious sensitivities while exercising freedom of the press and expression. He underlined the need for more training workshops in rural areas. The Director of Public Relations for the Government of the Punjab (Bahawalpur Division), Mr Ejaz Ahmed Ghauri, praised the Rural Media Network for arranging a training workshop for rural journalists to acquaint them with present day journalistic responsibilities, and exposing them to the latest information techniques. He appreciated publication of the newsletter Sadiq News which had gained prominence in a very short time. The Director later distributed certificates to the participants.
AhmedpurEast.>Director Public Relations Bahawalpur Division Ejaz Ahmed Ghauri giving certificates to participants of the one day journalism training workshop organised by Rural Media Network Pakistan at AhmedpurEast(staff Photo)


Convenor Rural Media Network Pakistan Ehsan Ahmed Sehar organised three training workshops in 1995, 2002 and 2005 with the collaboration of Pakistan Press Foundation, UNESCO and Friedrich Ebert Siftung (FES).
A three day Rural Journalists' Skills Development Workshop was organised under the auspices of Pakistan Press International (PPI) with the collaboration of Pakistan Press Foundation (PPF) in Jinnah Hall, AhmedpurEast from 22 Oct 1995 to 25 October 1995. It was inaugurated by the spokesman of the opposition in the Punjab Assembly, Syed Tabish Alvari, on 21 October 1995 and chaired by MPA Sardar Mohd Abdullah Khan Dahar. The Secretary General of the Pakistan Press Foundation (PPF), Owais Aslam Ali, Managing Director/Chief Editor PPI Fazal Qureshi, and Khalid Saeed acted as trainers. Twenty-six male rural journalists from small towns attended. Adviser to Chief Minister Punjab, Abdul Qadir Shaheen, gave certificates to participants in an event on 25 October 1995 chaired by Sajjada Nasheen Uchsharif Makhdoom Syed Ghulam Asghar Bukhari.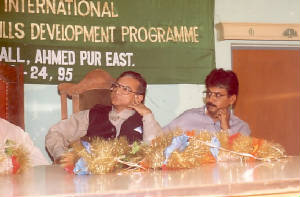 Opposition Spokesman in Punjab Assembly Syed Tabish Alvari sitting with PPF Trainer Khalid Saeed
| | |
| --- | --- |
| Adviser to Chief Minister Punjab Abdul Qadir Shaheen giving certificates to participants | Ehsan Ahmed Sehar,Owais Aslam Ali,Fazal Qureshi and Khalid Saeed |