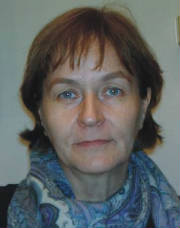 Tarja Virtanen
Freedom of Expression top on the UNESCO Agenda,says Director Ms Tarja Virtanen

Women perspective is missing in news from rural areas of Pakistan.President RMNP Ehsan Ahmed Sehar

Islamabad.November 24,2009>Director UNESCO Islamabad Ms Tarja Virtanen has underlined the need for extending media coverage to the rural areas with especial focus on women.These views were expressed by her while talking to President Rural Media Netwok Pakistan (RMNP) Ehsan Ahmed Sehar who called her in UNESCO Islamabad office. She said that UNESCO considered freedom of expression as a fundamental value.This was in conformity with article 19 of the Universal Declaration of Human Rights,which proclaims that "everyone has the right to freedom of opinion and expression"Ms Tarja Virtanen added.She ,however regretted that in this era of electronic media and internet,most people in developing countries did not earn enough to own a computer or to get connected to the internet.She said the main focus of the UNESCO was on arranging professional training for journalists.But,as the mainstream media continued to ignore rural areas,the UNESCO was trying for the capacity building of rural journalists.She listed poverty,illiteracy,isolation and social exculsions as the major barriers to access.The UNESCO,she told had established a large number of community radio stations in different developing countries which are highlighting the social and economic issues and enhancing local communities' access to information. Ehsan Ahmed Sehar,President Rural Media Network Pakistan(RMNP) said though there had been improvements in many aspects,such as the level of freedom ,technical quality of production and media impact in raising the awareness of the people."We still have a very long way in terms of media reach,quality and impact."There is need to raise the professional competence of journalists about the problems of rural areas,he said adding the womens" perspective was missing in news from rural areas.".President RMNP briefed Director UNESCO about RMNP activities in defending press freedom in rural Pakistan and highlighted the RMNP training programmes for the capacity building of both male and female rural journalists.He told Ms Tarja Virtanen that RMNP had also organised two training events for electronic media journalists in the districts of RahimyarKhan and Bahawalpur this year without any donor organisation support and provided them training manuals in country Urdu language.He informed Director UNESCO about RMNP plans for the capacity building of rural publishers and editors,mid career journalists and district correspondents of both print and electronioc media.Ehsan Ahmed Sehar also thanked UNESCO for supportng RMNP efforts in past.

Source. RMNP
World Press Freedom Day 2009 Seminar
Chani Goth Rural Pakistan

UNESCO Executive Board Decision Hailed

Chanigoth (Rural Pakistan) May 4: Special Assistant to Chief Minister Punjab Engineer Mohd Balighur Rehman MNA has hailed 174 Executive Board UNESCO decision, for upholding the exercise of freedom of expression in a spirit of mutual interest and mutual understanding and paid tributes to UNESCO for urging mutual respect for cultural diversity religious beliefs and religious symbols. These views were expressed by him while addressing World Press Day Seminar organised by Rural Media Network Pakistan (RMNP)with the collaboration of UNESCO on the topic "Dialogue, Mutual Understanding & Reconciliation in Union Council Hall Chanigoth last night. It was chaired by PPP MNA Arif Aziz Sheikh while PML(QA) leader & former Chairman District Council Bahawalpur Syed Mehmood Akbar Rizvi, PML (N) leader Qazi Adnan Farid and PPP leader Hassan Askari Sheikh were the guest of honour. Mohd Balighur Rehman agreed with UNESCO the role media can play to deepen differences or to create knowledge about others and their history in order to enhance better inter-cultural understanding. He opined that one of the main challenge when advocating for freedom of expression - and a frequent road block in the way of tolerance and understanding arises from the tension when expression offends or confronts other s' culture, religious belief or identity. He referred to Danish Cartoons Affair which created hatred in the whole Muslim World. Special Assistant to Chief Minister Punjab lauded the role of print & electronic media during recent long march call by PML (N) Quaid Mohd Nawaz Sharif and said that due to it, movement for the restoration of judges succeeded. He said that media could work towards building mutual understanding by strengthening media culture itself. He added that Pakistani media is vibrant as compared with India which bowed down when slain Indian Premier Indira Gandhi grabbed powers under emergency while Pakistani media stood up against former Dictator General (r) Musharraf when he imposed emergency in Nov 2007. Similarly Pakistani media also faced other military dictators bravely when journalists were flogged, tortured and sentenced, he maintained. Mohd BalighurRehaman stated that PML (N) believes in the freedom of press and would provide maximum facilities to the journalists community. The alleged killers of slain journalists in Punjab province would be taken to task
and Chief Minister Punjab Mian Mohd Shahbaz Sharif has directed the law enforcing agencies to leave no stone unearthed in the arrest of culprits he concluded.

PPP MNA Arif Aziz Sheikh applauded Rural Media Network Pakistan(RMNP) for its diligence in monitoring press freedom violations and defending the rights of journalists who work in rural areas and small towns. He said that RMNP's work to promote an exchange among the country's rural journalists, to build their professional skills, and to defend their freedom to report was a model for other journalists organisations. He congratulated RMNP on on its plans to make the organisation even more dynamic including improvements to the internet site and Freedom of Information Newsletter Sadiq News. Without these sources, too many of the men and women who work in remote areas would have neither a voice in defending their profession nor a reliable source of information about press freedom, he observed. MNA Arif Aziz Sheikh emphasized a need for strengthened cooperation and networking of local media outlets and professionals in order to maintain independence of media and avoid attempts to control media and threats against journalists. Local media needs to provide more economical, social, cultural and human interest news stories from local perspective to be able to provide alternative coverage and compete with satellite televisions and news agencies. He hailed the announcement of the establishment of press freedom monitoring committee in Chanigoth and assured his full cooperation for the rural journalists of his home town Chanigoth. Former Chairman District Council Bahawalpur Syed Mehmood Akbar Rizvi, PPP prominent leader Hassan Askari Sheikh,District General Secretary PPP Bahawalpur Mohd Ali Ahsan,PMLN)leader Qazi Adnan Farid,Union Nazim Chanigoth Mehr ,Mohd Siddique,Tehsil President President Press Club Liaquatpur Khurshid Ahmed Khurshid, President Press Club Chanigoth Shahid Bashir Chaudhry, President Press Club Mubarakpur Mazhar Rasheed, Senior Vice President National Press Union Shabbir Ahmed Qureshi and Islamia University Mass Communication student Fahim Akhter Malik also spoke in the seminar. President RMNP Ehsan Ahmed Sehar presented RMNP annual press freedom report and told that 15 of 104 journalists killed world wide were Pakistanis.He revealed that 58 Pakistani journalists have been killed in the line of duty so far. President RMNP demanded of government to provide life insurance cover to those journalists who were working in tribal areas and FATA besides imparting "Safety Training" to them. World Press Freedom Day Edition of Daily Newspaper Nawa-I-Ahmedpur Sharqia was also distributed among participants while the messages of Director General UNESCO Koichiro Matsurra, Director International Press Institute (IPI) David Dadge, Director Free Voice Bart Dijkstra and President Commonwealth Journalists Association (CJA) Hassan Shariar were also read in the seminar. Earlier Special Assistant to Chief Minister Punjab Engineer Mohd BalighuRrehman MNA gave first Urdu language training manual ,Television Journalism published by International Centre for Journalists USA to five reporters of Independent TV channels of Liaquatpur and Chanigoth Mohd Tariq Alvi, Khurshid Ahmed Khurshid, Zafar Hussein Chuhan, Tariq Hussein Shad and Shahid Bashir Anjum while PPP MNA Arif Aziz Sheikh, Ex-Chairman District Council Bahawalpur Syed Mehmood Akbar Rizvi and PPP leader Hassn Askari Sheikh distributed UNESCO CDs among Chanigoth journalists, Shahid Bashir Chaudhry, Malik Zafar Iqbal Naich, Mohd Hashim Khan, Doctor Mohd Anwar Chaudhry, Tariq Khan Abbasi, Faheem Akhter, Abdul Saboor Khan Lanhgha, Malik Fayyaz Naich, Abdul Haeez Fahim, Farrukh Zaman Khan, Rana nadeem Akhter, Malik Abdul Raheed, Chaudhry Mohd Asif and Chaudhry Ghulam Mustafa. Both Special Assistant to Chief Minister Punjab Engineer Mohd Balighu Rrehman MNA and Arif Aziz Sheikh also received books gifts on the behalf of Rural Media Network Pakistan.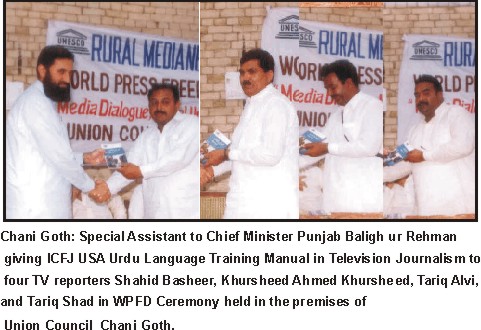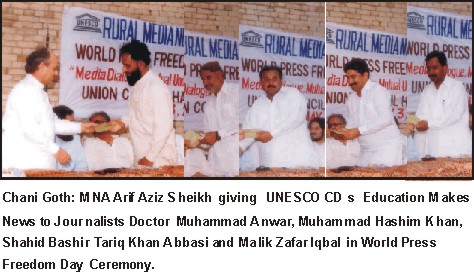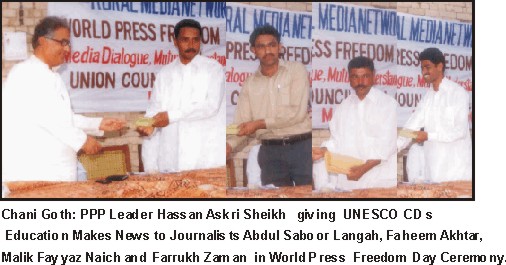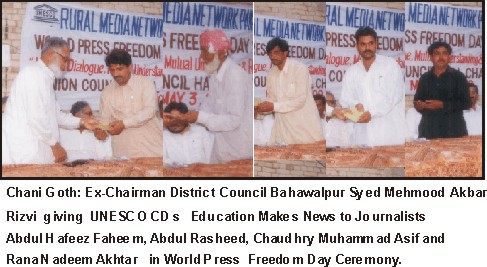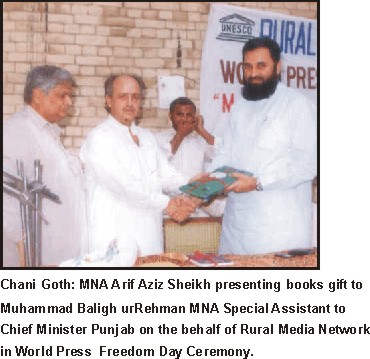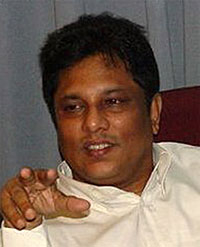 Lasantha Wickrematunge
UNESCO World Press Freedom prize

The late Sri Lankan journalist and editor of the Sunday Leader Lasantha Wickrematunge, who was assassinated on 8 January this year, has been named laureate of the 2009 UNESCO World Press Freedom Prize. The Director-General of UNESCO Ko´chiro Matsuura today endorsed the choice of the Prize's jury of 14 professional journalists from all over the world.

"Jury members were moved to an almost unanimous choice by a man who was clearly conscious of the dangers he faced but nevertheless chose to speak out, even beyond his grave," said Joe Thloloe, President of the jury and Press Ombudsman of the Press Council of South Africa, referring to the laureate's posthumous editorial in which he voiced his commitment for press freedom at the risk of his life. "Lasantha Wickrematunge continues to inspire journalists around the world," added Mr Thloloe.

Mr Matsuura welcomed the choice of Mr Wickrematunge: "In awarding the 2009 World Press Freedom Prize to a committed journalist who opposed war, UNESCO, along with media professionals from all over the world, recognizes the important role that freedom of expression can play in fostering mutual understanding and reconciliation, the theme of this year's World Press Freedom Day celebration."

The Director-General will present the World Press Freedom Prize in a ceremony on May 3, World Press Freedom Day, which UNESCO will celebrate this year in Doha, capital of Qatar.

Born in 1958, Lasantha Wickrematunge trained as a lawyer and was a member of the Sri Lankan Bar Association. While working as an attorney-at-law, he began working as an investigative reporter for the Sun/Davasa newspaper.

In 1994, Mr Wickrematunge started the Sunday Leader with his brother and used the publication to campaign vigorously against the war between Sri Lanka's army and Tamil rebels.

In 2000, Mr Wickrematunge secured a court victory which led to the abolition of the law that allowed the government to curb the media. In November 2007, the Sunday Leader was damaged in an arson attack that Mr Wickrematunge said resembled a "commando action."

Mr Wickrematunge expected to be assassinated and went so far as to write an editorial for publication after his death. It appeared in the Sunday Leader on 11 January 2009, three days after he had been murdered. In his editorial, Mr Wickrematunge voiced his commitment and readiness to die for press freedom: "[…] there is a calling that is yet above high office, fame, lucre and security. It is the call of conscience."

Created in 1997 by UNESCO's Executive Board, the Press Freedom Prize is awarded annually to honour the work of an individual or an organization defending or promoting freedom of expression anywhere in the world, especially if this action puts the individual's life at risk. Candidates are proposed by UNESCO Member States, and regional or international organizations that defend and promote freedom of expression.

Source: UNESCO
World Press Freedom Day 2008

RMNP reports seven of 97 journalists killed world-wide are Pakistanis

The annual press freedom report released by Rural Media Network Pakistan (RMNP) in both English and Urdu by its president Ehsan Ahmed Sehar on the eve of World Press Freedom Day pointed out that of 97 journalists killed since the beginning of 2007, seven were Pakistanis.

According to the report more than 250 Pakistani journalists were arrested in 2007, and the transmission of 50 TV stations and 4 FM radio stations was suspended on 3rd November
after the imposition of emergency rule in Pakistan by President Prevez Musharraf.

RMNP report revealed that Mehboob Khan 22, a freelance photographer died on April 28 in a suicide bomb attack in Charsadda (NWFP) that was aimed at former Interior Minister Aftab Khan Sherpao.

Similarly on June 2 Noor Hakim Khan a correspondent for daily Pakistan was among five people killed by a roadside bomb attack in Bajur region of NWFP province.

On July 3 Javed Khan a journalist with Markaz and DM Digital TV was shot in the chest and neck while covering Lal Masjid incident.

Azhar Abbas Haidri of the Islamabad-based Post was found shot dead for unclear reasons in Karachi in October.

Rab Nawaz Chandio of the Daily Halchal in Hyderabad was shot dead in September.

Muhammed Arif, a cameraman for ARY One World TV, lost his life during the bombing of Benazir Bhutto's welcome-home procession on October 18 while Zubair Ahmed Mujahid, correspondent for Urdu Language Daily Jang was shot in Mirpur Khas in Sindh province on November 23. He was allegedly murdered due to his investigative reporting.

The widow of journalist Hayatullah Khan was killed in the early hours of 17 November by a bomb planted outside her home in Mir Ali, North Waziristan. Mrs Khan, who was a school teacher, had been campaigning for justice following the murder of her husband, whose body was found in June last year six months after having been abducted. The investigation into the death of Mr Khan has been criticised as inadequate and the authorities have reportedly refused to publish the findings of a Peshawar judge's inquiry.

RMNP report says that scores of journalists were beaten and arrested since the declaration of a state of emergency on 3 November. As part of the authority╣s concerted suppression of criticism, news outlets were closed and draconian legislation censoring the media was introduced.

On 20th November of more than 180 journalists in Karachi who were protesting against the media crackdown were apprehended out of which six journalists were beaten by police during the arrests, three of whom were removed to hospital for treatment. Moreover 20 journalists
were injured by police in Islamabad on Sept. 29, when they staged a sit-in in the scrutiny of presidential candidates' nominations in front of Election Commission Islamabad office. . This led to a protest by the Pakistani journalists in London.

The RMNP report said the Federally Administered Tribal Areas, North-West Frontier Province, Baluchistan and Karachi were the most dangerous places for media personnel in Pakistan. The annual report highlighted the state of press freedom in rural Pakistan where not one training opportunity had been provided by the government or the big media houses.

Reporting on conflicts remained highly risky, and reporters as well as those working inside the media houses remained under threat from the authorities as well as from non-state actors, the RMNP said.

Report underlined the need to organise safety training courses in rural Pakistan especially for those journalist deputed to report conflicts. They should be provided life insurance and safety equipment by media houses.

RMNP report finishing by pointing out that "The fight against terrorism must contribute to the defence of democracy, not to its erosion."

Source: RMNP 3 May 2008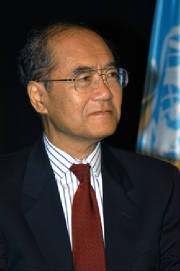 Koichiro Matsuura
Message from Mr Ko´chiro Matsuura, Director-General of UNESCO, on the occasion of World Press Freedom Day (3 May 2008)

Freedom of expression is a fundamental human right recognized in Article 19 of the United Nations Declaration of Human Rights, whose 60th anniversary we celebrate this year. On World Press Freedom Day 2008, UNESCO pays tribute to the courage and professionalism of the many journalists and media professionals killed and wounded while carrying out their professional activities, by dedicating this Day to the themes of empowerment and access to information.

Alongside the dangers of conflict areas and war zones, journalists often face threats, intimidation and actual violence as a direct result of their work. These acts are unconscionable, not only because they violate the human rights of individuals, but also because they impede the free flow of accurate and reliable information which underpins good governance and democracy. Too often these crimes are not adequately punished.

Press freedom and access to information feed into the wider development objective of empowering people by giving people the information that can help them gain control over their own lives. This empowerment supports participatory democracy by giving citizens the capacity to engage in public debate and to hold governments and others accountable. But this flow of communication does not happen automatically. It has to be fostered by a free, pluralistic, independent and professional media, and through national policies founded on four key principles at the heart of UNESCO's work: freedom of expression, quality education for all, universal access to information and knowledge, and respect for linguistic diversity. Indeed, the freedom to express oneself in one's mother tongue as widely and as often as possible and to master other national, regional or international languages is being highlighted by UNESCO in this International Year of Languages. Without strong policies to foster linguistic diversity in all aspects of a nation's life – in schools, administration, law and in the media - we risk denying hundreds of thousands of people around the work of the basic right to engage in public life and debate.

Technological advances – for example the internet – allow the media to reach more people in more places, allow people to share their opinions more readily, and allow information to flow across borders. These are huge benefits. But freedom of information, and online information, alone do not guarantee access. People also need the internet connectivity and IT resources to use that information, for example to access national or international news or to provide a plurality of media options, including community radio. Even more fundamentally, they need to have the capacity to use these tools - and this can only come about through the universal provision of quality education and promotion of multilingualism.

As we celebrate World Press Freedom Day 2008, let us remember three things:

First, the courage of those journalists who have put themselves at risk in order to provide the public with accurate and independent information

Second, that press freedom and freedom of information, are the founding principles for good governance, development and peace

Third, that new technology can provide enormous information benefits, but needs to be underpinned by measures that empower people to make use of it: quality education for all, universal access to information and knowledge, and respect for linguistic diversity.

A commitment to removing all obstacles to press freedom, to improving the conditions for independent and professional journalism, and to empowering citizens to engage in public debate is essential. On World Press Freedom Day 2008, UNESCO encourages its Member States to strengthen their efforts in this direction.

Ko´chiro Matsuura
WAN message 2008

The World Association of Newspapers (WAN) dedicates its 2008 World
Press Freedom Day campaign to Chinese journalists and cyber reporters
currently held in prison for reporting facts or peacefully expressing
their views and it calls for their immediate release. Despite
promises of reform made ahead of the Beijing Olympics, the Chinese
authorities have not only failed to respect them, but they have
intensified their crackdown on those who seek to exercise their right
to freedom of expression.

It is high time for China to respect its commitments pertaining to
freedom of expression and freedom of the press and to guarantee the
right of all people to access information.

This is the clear message we need to impress on the Chinese
authorities and other Olympics' stakeholders on World Press Freedom Day.

On World Press Freedom Day, WAN also wishes to commend the dedication
of the Rural Media Network Pakistan to defend and promote freedom of
expression in Pakistan.

It is the view of WAN that RMNP is indeed playing an active role in
promoting and defending freedom of expression in rural Pakistan. It
does so through relevant actions and tools, including a website
dedicated to freedom of expression and freedom of the press, a
monthly newsletter published in Urdu language, a press freedom award,
and the celebration since 1999 of the World Press Freedom Day.

Over the past years, the Network has, moreover, actively and
successfully contributed to efforts initiated by WAN in the field of
press freedom.

Sincerely,

Timothy Balding
Chief Executive Officer
World Association of Newspapers

Committee to Protect Journalists WPFD 2008

To celebrate World Press Freedom Day, the Committee to Protect
Journalists sends its best wishes to our colleagues in rural and urban
Pakistan. As media freedom shrinks and grows in Pakistan over the years,
Pakistani journalists have led the struggle for a free press and an open
society. Pakistani media's persistence, resourcefulness, and cohesion
have often formed a bulwark against attacks not just on journalists but
on all Pakistanis. Journalists in Pakistan know that without journalism
a free society cannot truly exist. Power-obsessed politicians know that,
too, and that is why they have tried so often to suppress the media.
That these politicians have not fully succeeded should give us hope.
Failed governments have come and gone. Their executives, legislatures,
and judiciaries are easily and regularly corrupted, but Pakistani
journalists have persevered to uphold a higher ideal.

Bob Dietz
Asia Program Coordinator
Committee to Protect Journalists
World Press Freedom Day 2008

The 3rd of May is World Press Freedom Day. On that day we celebrate
press freedom. We honor those who dare to speak out and we acknowledge
the trials and tribulations they face. On that day we stand up for those
journalists whose mouths are forced shut. We draw attention to the
numbers of journalists being threatened, violated and even murdered. On
the 3rd of May we underline to the world the importance of what we at
Free Voice, our partner organizations in Asia and many others with us,
do on a daily basis: to support independent and free media.

Amis Boersma
Program officer Asia
Free Voice
CJA statement on World Press Freedom Day 2008

As we approach World Press Freedom Day on May 3, our thoughts and prayers
are with our many Commonwealth friends and colleagues who face censorship,
intimidation, physical harm and, worse, death in the pursuit of their craft.

A free press and freedom of speech constitute the strongest
pillars of a democracy. People from all walks of life, religions, and
political stripes are free to disseminate ideas, thoughts and information;
they are free to publish and broadcast supporting or dissenting views of the
government of the day; they are free to stroll the streets and participate
in forums without fear of retribution.

Sounds like utopia?

It may be so in Commonwealth countries such as Great Britain,
Canada, Australia, and New Zealand where press freedom and freedom of speech
are enshrined in their constitutions. But it is not so utopian in more than
30 Commonwealth countries where despotic governments and others seek to
suppress and muzzle the press.

Pakistan, Fiji, Sri Lanka, The Gambia, The Maldives and Kenya
come to mind in recent days. There are others with less-than-perfect
performances, and judicial practices which need reform, particularly old
criminal libel and sedition laws.

The Internet makes it possible to easily learn about assaults on press
freedom and the press throughout the world. And although his country is at
present out of the Commonwealth, there is no place for the likes of a Robert
Mugabe-style leadership to hide in the face of worldwide scorn. Similarly,
China cannot prevent similar protests against its tawdry human rights record
on the eve of the Beijng Olympics.

The Commonwealth Journalists Association deplores the
simplistic, ignorant and hardline approach taken by those in countries whose
leaders think it is necessary to restrict free expression.

Journalists throughout the Commonwealth can take comfort in
knowing that the CJA will be on their side, to the greatest extent possible.
We will continue to press for and foster press freedom with support our
colleagues whose craft is under siege.

The World Press Association is a forerunner in supporting this
special day. Newspapers and others can download messages, images and videos
related to press freedom from their site.

Warm wishes

Hassan Shahriar
President
Commonwealth Journalists Association
International Press Institute on WPFD 2008

On World Press Freedom Day, IPI Calls for all Governments to Reject
Attempts to Limit Press Freedom

"On the eve of World Press Freedom Day, 3 May 2008, IPI calls upon all
governments to combat limitations on press freedom and to work harder
at ensuring that the media is able to report on issues of public
interest," said IPI Director David Dadge.

"We are very worried that, while there is a growing coalition of
countries actively seeking to suppress this freedom, those countries
who traditionally support press freedom have yet to wake up to the
fact that it is under threat."

Over recent years, press freedom and freedom of expression have come
under growing pressure from a coalition of Islamic countries seeking
to limit this fundamental right in order to protect religion.

On 28 March, the UN Human Rights Council passed a resolution forcing
the UN Special Rapporteur on Free Expression to investigate instances
where freedom of expression may have discriminated against race or
religion.

The resolution places the Special Rapporteur in the difficult position
of being both defender and prosecutor of press freedom, raising fears
that this important role is slowly being eroded by countries who
desire to protect religion.

In a previous session, the Human Rights Council passed a resolution
urging governments to fight against the defamation of religions. The
resolution is one of many passed by this body or its predecessor, the
United Nations Commission on Human Rights, since 1999.

Although the resolution is phrased in general terms, the campaign is
being led by the Organisation of the Islamic Conference (OIC) on
behalf of Islamic countries. The phrase appears to create a new
international form of defamation focusing on the defence of beliefs,
as opposed to individuals, and could limit religious reporting.

Vienna 2 May 2008
WPFD 2008

It is welcome that some of the emergency restrictions on the media in
Pakistan are being lifted. But other restrictions remain. Journalists must
also contend with the threat of violence. Pakistan is not alone in this.
Sri Lanka has seen over 20 incidents of violence against journalists this
year. There has been a rise in violent incidents also in Assam in North-East
India. A journalist was beaten to death there in April by unknown
assailants. Journalists have an important job to do -- to tell people what
is going on, so that they can have good information on which to form their
opinions. It is remarkable how many continue to do this job despite the
threats and difficulties.

David Spark
Editor
Commonwealth Journalists Association Newsletter
IFEX Conference

On 7-12 October, the International Freedom of Expression eXchange (IFEX) held its conference and workshops in Uruguay, where 10 new organisations were voted in as members. IFEX now has 81 members around the world.

Campaigning sessions were devoted to advocating for free expression across Africa and Latin America, to improve human rights around the 2008 Beijing Olympic Games, the terrible situation for free expression in Burma, and the international mission to Nepal.

Also at the conference, participants got practical, technical advice from experts during a one-day forum on information and communication technology. The experts divulged a slew of tips, including how to get around Internet censors, how to create and maintain a secure email
address, ways to spread campaign news using easy movie-making software, and how to save money on telephone bills by setting up voice communications over the Internet.

The six-day conference was hosted by the World Association of Community Radio Broadcasters (AMARC) and the Institute of Press and Society (Instituto Prensa y Sociedad, IPYS), with support from local groups Comunica and the Uruguayan Journalists Association (APU).
171 journalists killed world-wide, 13 of them Pakistanis

The annual press freedom report released by Rural Media Network Pakistan in both English and Urdu today pointed out that of the 171 journalists killed since the beginning of 2005, 13 were Pakistanis. According to the report 807 journalists world-wide were arrested in 2005, 1,308 physically attacked or threatened, and 1,006 media outlets censored.
In addition to the 13 journalists killed in Pakistan, 11 Pakistani journalists were killed in the 2005 earthquake which hit Azad Kashmir, Northern areas and NWFP during the Holy month of Ramzan. A total of 242 journalists and media workers were badly affected by the disaster and 12 of 20 buildings belonging to press clubs and journalist's associations were either destroyed or badly damaged in the earthquake.
Two Pakistani journalists, Amir Nawab of The Frontier Post and Allah Noor of Khyber Television, were shot dead by unknown gunmen on 7th February 2005 in Northern Waziristan.
Another Pakistani journalist, Hadayatullah Khan, who was kidnapped last year by armed gunmen is still not free despite repeated demands and protests by journalist's associations and unions in Pakistan. The Pakistan government has informed the Hadayatullah family that he is in the custody of United States of America.
Rural Media Network Pakistan reported that the Pakistan Government had issued licenses to establish new TV and FM radio channels, but at the same time had failed to implement the Freedom of Information Rules 2004 in a true spirit. Citizens did not get the public documents promised by the federal governments because the 19 grade officers designated for this purpose did not even know the procedure for the implementation of FOIR 2004.
The Report added that neither the bureaucracy nor the Pakistan government were ready to get rid of the old culture of secrecy. Pakistan's rating on the Freedom House free press scale dropped from "partly free" to "not free" to reflect increased harassment of journalists and media outlets by the authorities, as well as the passage of a bill that increased penalties for defamation.
The Government had also failed to reach an agreement with the Council of Pakistan Newspaper Editors (CPNE) and All Pakistan Newspapers Society (APNS) on a constitution for a press council, and amendments to defamation laws.
The annual report highlighted the state of press freedom in rural Pakistan. There senior journalist, Shabbir Rao, was assaulted and injured in Bhakkar and cases were registered against journalists in Ahmedpur East, Fazalpur, DeraGhaziKhan and other small towns. The office of a daily paper in RahimyarKhan district was ransacked.
The report finished by pointing out that in the last year not one training opportunity had been provided by the government or the big media houses, and only two national professional organisations were operating in rural areas.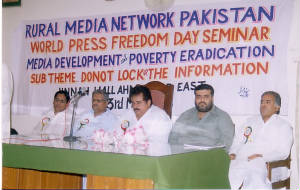 RMNP marked World Press Freedom Day 2006 a seminar on the topic Media Development & Poverty Reduction with a sub-title Do not Lock Up The Information. It was held in Jinnah Hall Ahmedpur East on 3 May 2006 and chaired by the Convenor of the Rural Media Network, Ehsan Ahmed Sehar. The District Nazim of Bahawalpur, Chaudhry Tariq Bashir Cheema, said that a free press helped build more effective and stronger institutions. By fostering transparency and accountability in both public and private spheres, the media in poor countries were being increasingly recognized as a development "good" capable of contributing to improved government accountability and more effective use of resources. He questioned the connection between press freedom and economic poverty? And answered himself that a large part of connection lies with corruption and the fight against it. Studies by the World Bank showed that the higher the level of press freedom in countries, the greater the focus of scarce resources on priority development issues. The District Nazim claimed that the present government had given full liberty to the press in Pakistan, dozens of new TV channels and FM radio stations in the private sector had been opened, no journalist was in jail in the country. He praised the Rural Media Network for organising a World Press Freedom Day seminar for the fifth consecutive time in this remote area. He announced funding for the upgrade of Jinnah library and the creation of a computer script in the Seraiki language.
Earlier RMNP's Convenor Ehsan Ahmed Sehar said that out of a global population of six billion people only 1.2 billion lived in countries with access to a free press; 2.4 billion had access to a partially free press. This meant that around eighty percent of the world's population did not have access to a fully free press. These imbalances reflected broader imbalances between rich and poor countries, he added. He also said that some of these broader imbalances include one billion of the total world population owning 80 percent of global wealth while another billion struggled to survive on a dollar day. Two billion people had no access to clean water,150 million children never got the chance to go to schools and more than 40 million people in the developing countries were HIV Positive with little hope of receiving treatment. Ehsan Ahmed Sehar said that by denouncing corruption both in public and private sectors, the press can contribute to the development of good governance practices. It can improve a country's chances of attracting foreign investment with positive outcomes for the whole economy. He cited the example of Bangladesh where media had played a significant role in exposing corruption, particularly in the financial sector. Fateha was offered for the departed souls of 11 Pakistani journalists who were killed last year in the Azad Kashmir earthquake while two others were shot dead in the line of their duty on the Afghan Pakistan border.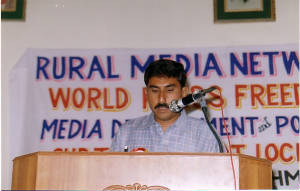 Mazhar Rasheed of the National Press Union
Later Nazim Bahawalpur Chaudhry Tariq Bashir Cheema presented the First Sadiq Press Freedom Prize of Rs 5,000 to the General Secretary of the National Press Union, Mazhar Rasheed, in recognition of his services in the defence of press freedom in Mubarakpur during the last four years. The Sadiq Press Freedom Prize was instituted by the Rural Media Network with financial contribution by the Amir of Bahawalpur, Nawab Salahuddin Abbasi.
To mark World Press Freedom Day 2005 the Rural Media Network organised a seminar on Media and Good Governance in Mubarakpur on 3 May 2005.
L-R: Convener RMNP Ehsan Ahmed Sehar, District President PPP Sardar Riaz Dahar, Tehsil Nazim AhmedpurEast Makhdoom SamiulHassan Gillani,MMA District Chief Maulana Mohd Ashraf,intellectual Hassan Askari Sheikh and District General Secretary PPP Bahawalpur Mohd Ali Ahsan.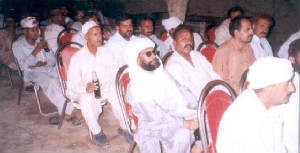 The audience of 2005 WPFD Seminar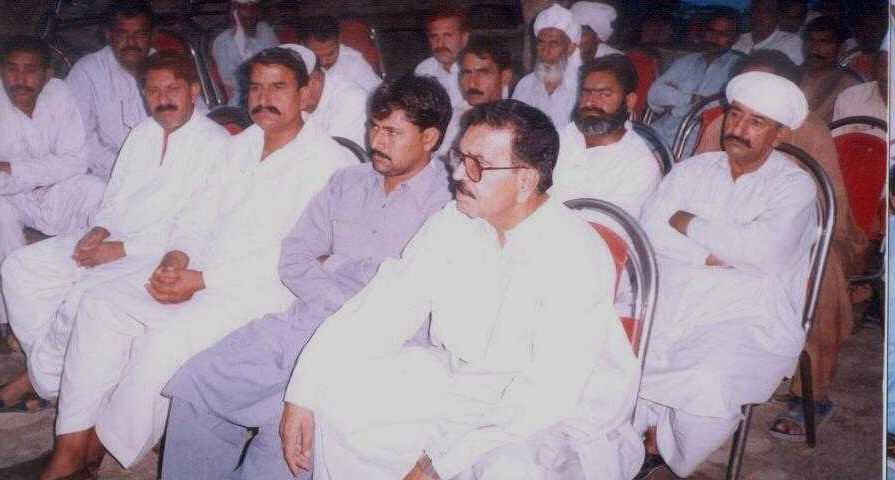 Seminar audience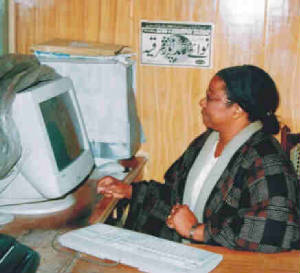 Jocelyne Josiah
UNESCO's expert on Communication and Information in the Field for Asia and the Pacific, Ms Jocelyne Josiah, visited the office of the Rural Media Network in February 2005. She discussed the freedom of expression situation in rural Pakistan with Ehsan.She also visited the office of the rural newspaper Nawa-i-AhmedpurSharqia and inspected its computer section and printing house. She later met Prince Falahuddin Abbasi in Sadiqgarh Palace as his elder brother, Nawab Salahuddin, was out of the country. Ms Josiah is based at UNESCO's New Delhi office . Her previous post was in the Caribbean where she was widely respected and known for her interest in journalism.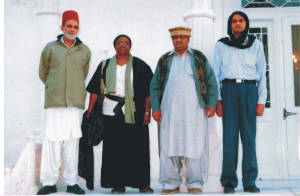 Prince Falahuddin, Jocelyne Josiah, Ehsan Ahmed Sehar, Professor Shehzad Ahmed Khan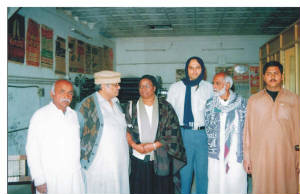 Jocelyne Josiah with Nawa-I-Ahmedpur Sharqia staff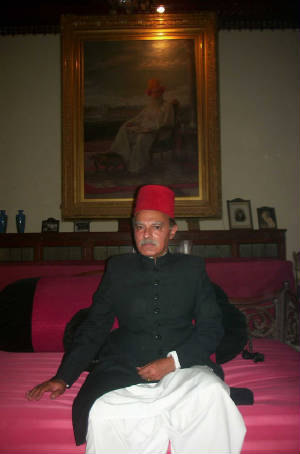 Amir Nawab Salahuddin Abbasi
Money for the Sadiq News Press Freedom Prize was donated by the Amir of Bahawalpur, Nawab Salahuddin Abbasi. He is the heir of the last ruler of former Bahawalpur State Nawab General Sir Sadiq Mohd Khan Khamis Abbasi. In1953 Sir Sadiq awarded every citizen the right to vote for the 49 members of the Bahawalpur Assembly. Most people in Pakistan did not get this basic right until 1970. For this reason the FOE newsletter Sadiq News is named after him.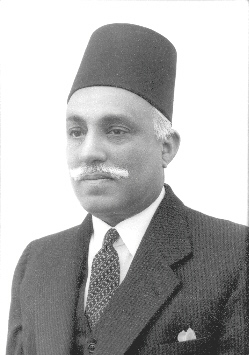 Nawab Sir Sadiq Mohd Khan Abbasi
The last ruler was a great reformist who constructed educational institutions throughout his princely state. On his death his successor Amir Bahawalpur Alhaj Brigadier Nawab Mohd Abbas Khan Abbasi established the Sir Sadiq Mohd Khan Trust which funded the Sadiq Public School, DarulAmman (Orphan House), Abbas Public High School(English Medium) along with Sadiq Abbas Degree College (S.A.Degree College)and Jamia Mosque Al-Sadiq Bahawalpur. The Bhutto Government later nationalised this trust.